Five Star Bank Signs Lease for Office Space in Amherst
August 24, 2021 - Warsaw, NY -
Five Star Bank announced the execution of a long-term lease to occupy approximately 30,000 square feet of office space at 6215 Sheridan Drive in Sheridan Meadows Corporate Park, Amherst, NY.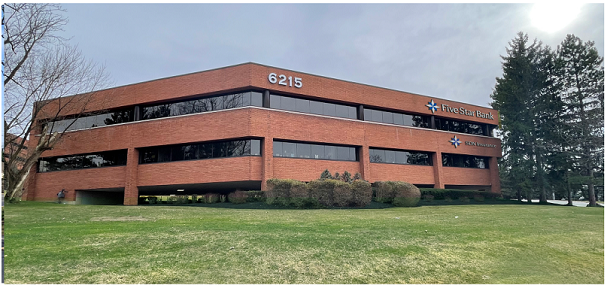 Five Star Bank President and CEO Martin K. Birmingham said, "We are looking forward to our move to Sheridan Meadows. This is a great location and of a size that enables us to consolidate much of our current operations in Buffalo and accommodate ongoing growth in Western NY — in banking, insurance and residential lending. Growth in Buffalo and Western New York is a strategic focus for our organization."
Five Star Bank has experienced significant growth in Buffalo in recent years. Two new branches opened in the City of Buffalo in June – at 451 Elmwood Avenue and 2222 Seneca Street. The Bank's downtown branch at Fountain Plaza opened in February 2017. Subsidiaries SDN Insurance Agency and Courier Capital were acquired in 2014 and 2016, respectively.
Birmingham added, "Existing leases for our Five Star Bank Buffalo Regional Office and SDN Insurance Agency at 300 Spindrift Drive and our Loan Production Office at 6255 Sheridan Drive are expiring and we will be moving associates from these offices to 6215 Sheridan Drive. Courier Capital will continue to maintain their offices on Delaware Avenue. We look forward to completing our move to the new Five Star Bank Buffalo Regional Administrative Center and SDN Insurance Agency in early 2022."
Newmark Ciminelli represented Five Star Bank in an extensive search for office space and managed the transaction on behalf of the Bank. Newmark Ciminelli Executive Managing Director Kyle Ciminelli stated, "It's exciting to support the growth of local business by identifying opportunities and negotiating favorable terms for our clients. Five Star Bank performed a detailed search for new corporate office space in the region and found that Uniland Development Company's Sheridan Meadows Corporate Park was the right fit. We're very excited about what the future holds for Five Star Bank in this new location."
---
For additional information contact:
Shelly J. Doran
(585) 627-1362 or sjdoran@five-starbank.com