Reimagined Bank Design Will Debut at Warsaw's Main Street Branch
Construction Has Started and Re-opening is Targeted for Late December 

December 2, 2020, Warsaw, N.Y. –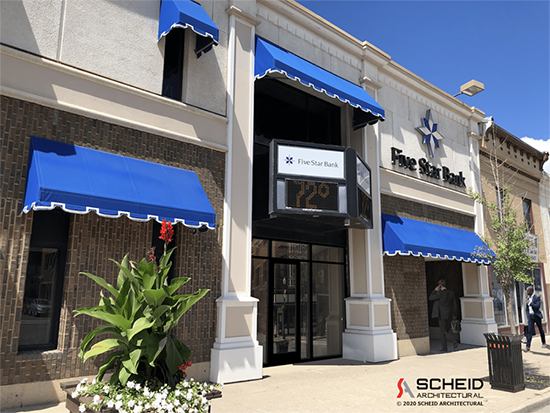 After months of planning, extensive renovations have started on Five Star Bank's branch at 55 North Main Street in Warsaw. This will be the first branch to feature Five Star's reimagined design intended to align services with shifting customer needs and preferences. The new design balances the convenience of digital banking for day-to-day transactions with in-person expertise and solutions provided by Five Star's professional bankers to help customers manage the complex needs encountered on their journeys to financial well-being.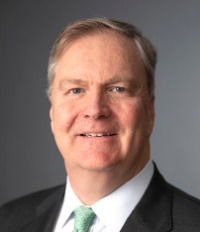 "We take great pride in our long history of serving the Warsaw community and are especially pleased to launch our first newly reimagined branch design right here on Main Street," said Martin K. Birmingham, President and CEO of Five Star Bank. "When our newly remodeled branch debuts in late December, our customers can look forward to an enhanced banking experience that allows them to take advantage of the convenience of digital banking services while continuing to have a banker available for in-person banking. We will equip our branches to allow our customers to bank as they prefer."
Five Star Bank's 55 North Main Street building also houses Five Star Bank's Call Center and other department offices. The branch has been closed since March to prepare for renovations. Five Star Bank also maintains two other locations in Warsaw, a branch at 2330 North Main Street and the Corporate Headquarters at 220 Liberty Street.
Rennovation Highlights
Renovations on the branch include enhancing the presence on Main Street with the addition of a new and welcoming main sidewalk entrance. The community can watch the progress on the building's facade as windows are replaced and the new entry is constructed. The bank's previous main entrance had been along the side of the building.
As part of Five Star Bank's continued efforts to provide a balanced approach between digital and in-person banking solutions that meet customers' preferences, the Main Street branch will offer an Interactive Teller Machine in its new vestibule, which allows customers to complete many of the basic transactions that previously required teller interaction, as well as to video-connect with bank representatives for assistance when preferred. This latest method of banking increases overall efficiency when visiting a branch while still allowing customers to maintain their personal relationships with Five Star Bank representatives.
Certified personal bankers will be on-site to help customers who have more complex banking needs or simply prefer in-person banking. They will be located in private offices more conducive to providing financial education and advice.
As a financial solution center, customers will also be able to access investment and insurance services with experienced banking professionals.
The bank's popular Community Room will reopen at a future date, providing professional space with the latest technology and presentation aides for use by area not-for-profit organizations. It has been closed due to the pandemic.
Convenient free parking is located behind the building.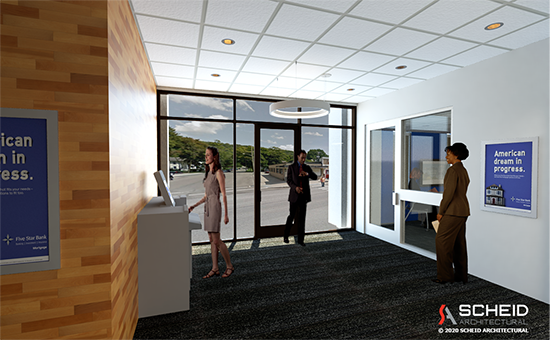 The renovated Warsaw branch is part of Five Star Bank's Energy Efficient "Green" Initiative and will feature:
Interior lighting is energy-efficient LED interior lighting.
Carpet is Cradle to Cradle certified meaning the manufacturer assesses its entire supply chain to provide an eco-conscious product.
Porcelain tile is Green Square Certified and made with recycled materials.
Acoustical panels are made with a minimum of 60% recycled content and are Declare Certified.
Millwork laminate is GreenGuard Certified. The manufacturer formulates its own resins allowing the manufacturing process to be environmentally friendly. The manufacturer (Nevamar) is Forest Stewardship Council Certified and uses recycled and renewable resources to preserve forests and promote a healthier environment.
Solid surface countertops are created with recycled materials, are Greenguard certified, Red List free and have Health Product Declaration and Environmental Product Declarations.
Acoustic ceiling tiles contain up to 56% recycled content and the ceiling grid contains up to 61% recycled content.
Roller shade fabric is 100% recycled, PVC-free polyester and has a minimum of 89% of fibers made from 100% recycled post-industrial fiber and consumer plastic waste. The fabric is Cradle to Cradle Certified and uses 11 recycled bottles per yard of fabric made in the USA.
The project's general contractor is Mulvey Construction Inc. and the architect is Scheid Architectural.